"QUALITY SUMMER ESSENTIALS SOURCED FROM THE MEDITERANEAN WITH LOVE."
THE PERFECT BEACH PONCHO
Comfy way to change your togs and stay dry at the beach.
YOUR KIDS WILL LOVE THEM
Super soft turkish cotton and quick to dry hoodies for your little ones.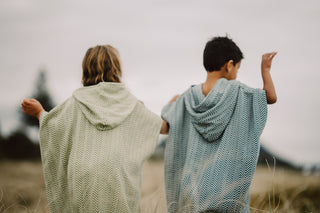 Beach Blankets & Throws
Get ready to feel the luxurious touch of high-quality Turkish cotton on your skin. This blanket is the must-have companion for your beach days!
Whether you're headed to the beach, pool, park, or simply looking for a stylish and functional towel, a roundie beach towel is a choice that combines practicality with a touch of personality.
RUAPUKE'S NEW IDENTITY
After running RUAPUKE for three awesome years, we've realized it's time for a change. Our roots are deeply tied to our hometown on the Mediterranean Coast, and it's our desire to reflect this Mediterranean essence in our brand, as all our products come from that stunning region.
In Catalan, our native language, "Cala" means "cove," and we think it's such a beautiful name that perfectly captures the essence of the Mediterranean's amazing little coves.